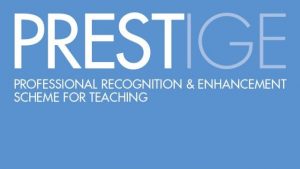 PROFESSIONAL RECOGNITION AND ENHANCEMENT SCHEME FOR TEACHING (PRESTige)
There will be a series of online Induction workshops through Bb Collaborate for staff wanting to make an application for Higher Education Academy (HEA) Fellowship or Senior Fellowship via the e-portfolio route.
Fellowship of the Higher Education Academy (FHEA) provides experienced academics with professional recognition benchmarked against the UK Professional Standards Framework.
Senior Fellows of the Higher Education Academy (SFHEA) additionally demonstrate leadership, impact and influence in teaching and learning through, for example, responsibility for leading, managing or organising programmes subjects.
The online workshops will be held on the following dates/times:
| | | | |
| --- | --- | --- | --- |
| October | 19th | 10.00am – 12.30pm | Online |
| November | 10th | 14.00pm – 16.30pm | Online |
|  December | 11th | 10.00am – 12.30pm | Online |
To attend a PRESTige Induction Workshop please email centreforteachinginnovation@westminster.ac.uk, clearly stating the date and time of the workshop you wish to attend.
For any questions about HEA Fellowship please email centreforteachinginnovation@westminster.ac.uk
Learn more about the PRESTige scheme on the webpages of the Centre for Teaching Innovation